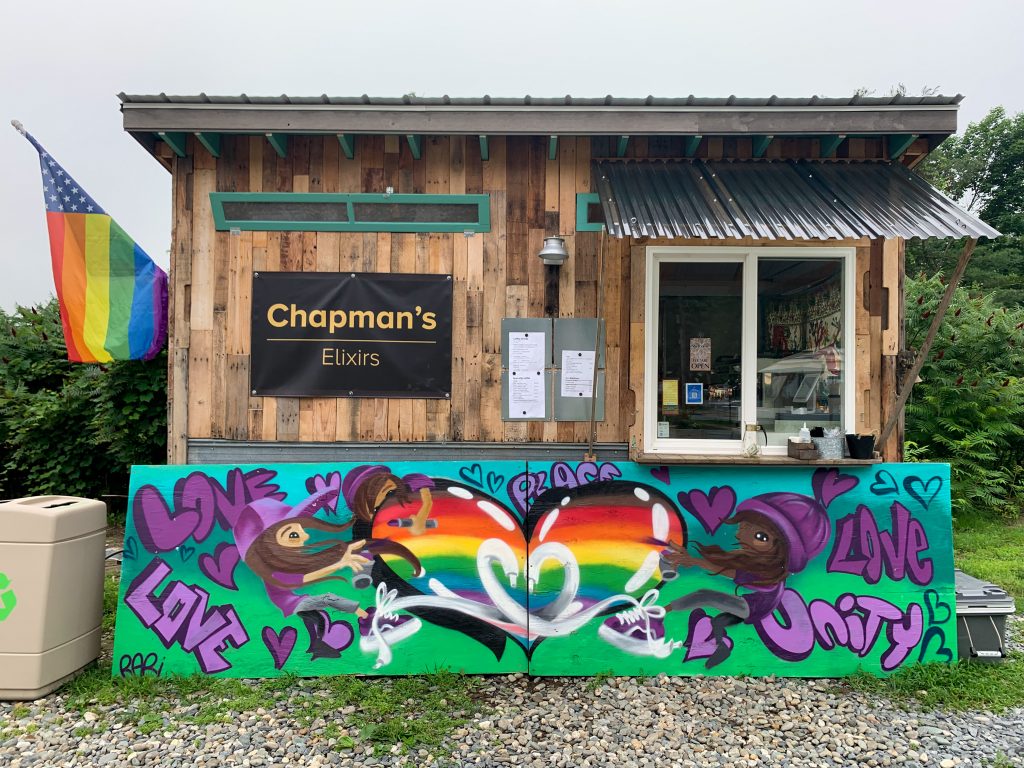 Chapman's Elixirs offers a fine selection of hand-crafted coffee and tea beverages sourced from local providers. We proudly serve coffee from Upper Valley Coffee Roasters in Newbury, VT, and tea from Vermont Artisan Tea & Coffee.
See our menu below.
(Availability and price subject to change)
Coffee Drinks
Hot: 12oz or 16oz
Cold: 16oz
Flavors: Local maple, toad farm caramel, coconut, hazelnut, mango, Nutella, pineapple, raspberry, toasted marshmallow, vanilla, SF vanilla, white chocolate.
Dairy Alternative: Oatley Oat Milk
Americano: 3.50/4.00/5.00
Espresso with water
Cappuccino: 4.00/4.50
Espresso with steamed milk and foam
Latte: 4.00/4.50/5.00
Espresso with steamed milk, add flavor  for 0.75
UVCR Drip of the day: 1.50 / 2.00
Iced Coffee: 3.50 / 4.00
Specialty Lattes
Dirty Oat Chai Latte: 5.00 / 5.50
Espresso, chai, vanilla, oat milk Caramel Macchiato: 5.00 / 5.50
Espresso, vanilla, caramel, milk
Vermont Maple Latte: 4.50 / 5.00
Espresso, local maple syrup, milk
Mocha Latte: 4.50 / 5.00
Espresso, Lo's Bakehouse ganache, milk Nutella Latte: 4.50 / 5.00
Espresso, nutella, milk Toasted Marshmallow Breve: 5.00 / 5.50
Espresso, vanilla, toasted marshmallow, half and half
Tea
Vermont artisan tea co
Hot: 12oz 16oz
Cold: 15oz
Fresh Brewed Iced Tea: 3.00 / 3.50
Hot Tea 2.75
Orangic Black Tea Blueberry Pomegranate
Cloud Mist Organic Green
English Breakfast Organic Black
Ginger Lemongrass Organic Herbal
Bagels
We proudly serve locally-made Goose & Willie's bagels.
Lo's Bakehouse
Lemon Loaf: 2.50
Coffee Cake: 3.00
Scones: 2.50
Veggie Quiche: 7.00
Meat Quiche: 7.00
Granola Bar: 3.00